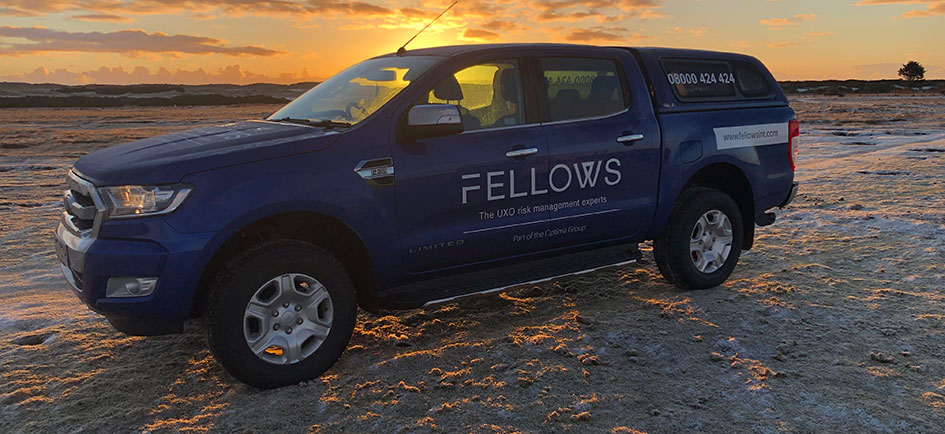 Land
Fellows have been supporting the UK and international construction industry with UXO Risk Management measures for over 2 decades.
Fellows have been operating since 1994 and, as one of the first companies to offer this service in the UK and overseas, Fellows have unrivalled experience delivering the UXO Risk Management process and are proud of their highly-regarded reputation for quality and cost-effective delivery.
Fellows management and workforce are all ex-UK military bomb disposal personnel, suitably qualified and commercially experienced in working with developers and constructors to ensure that UXO risk is reduced to As Low As Reasonably Practical (ALARP). Our UXO survey and bomb disposal knowledge is backed up by a highly qualified research and analysis team who utilise industry leading Geographic Information Systems (GIS) tools to advise and support field operations.
As well as the usual land development sites, Fellows specialise in the UXO survey of sites containing or adjacent to inland water. We can offer specialist marine processes to allow the efficient survey of wet areas with the unique requirements of access, safety and positioning. See our case studies here
Fellows can support clients through the entire UXO risk management process from project start to final delivery. Services include:

[]
Preliminary UXO Risk Assessment
[]
Detailed UXO Risk Assessment
[]
UXO Risk Mitigation Strategy
[]
Risk mitigation options
[]
Site surveys – Intrusive or non-intrusive
[]
UXO Awareness Training
[]
UXO Emergency Response Plan (Site Safety Plan)
[]
UXO Banksman (Watching Brief)

Land services summary
We recommend that the through-life involvement of UXO expertise is often the optimum way of reducing UXO risk to ALARP and engaging Fellows at the start of a project can reduce risk and cost while ensuring that appropriate risk management measures are in place in accordance with CDM 2015.
Fellows will produce all necessary Risk Assessments and Method Statements (RAMS), along with a detailed report on conclusion of any risk mitigation work. This ensures that the client has a robust Quality Assurance / Quality Control trail which ensures all appropriate precautions have been observed with any residual risk potentially remaining recorded.
All of our services are guided by industry best practice, outlined in CIRIA Report C681.