Fellows provide peace of mind project support for Orchard Wharf development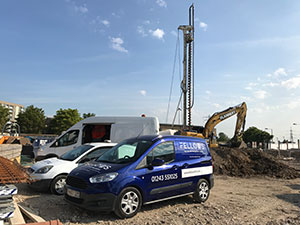 When the developers of new flats in Orchard Wharf, East London became aware of unexploded ordnance (UXO) risks in the area they sought the specialist support of Fellows to provide Risk Mitigation across the East London brownfield site.
The initial task for Fellows engineers was to visit the former petrol station site and support intrusive Ground Investigation works with a UXO Engineer carrying out a survey of each trial pit, window sample or borehole position to allow the GI works to take place.
For the development works, the substantial levels of made ground meant it was not suitable for non-intrusive surveying and Fellows recommended an intrusive survey to guarantee the safety of site workers during piling works. Spread over three visits, Fellows conducted the intrusive UXO survey prior by using a Cone Penetration Test (CPT) rig. This involved scanning each piling position to a survey depth of 9m with between 18 and 20 probe locations completed each day and 203 probes in total.
During this process an anomaly was detected at one position however on excavation a large amount of timbers containing large metal fittings were discovered and more importantly no evidence of UXO contamination allowing groundworks for the Orchard wharf development to commence.