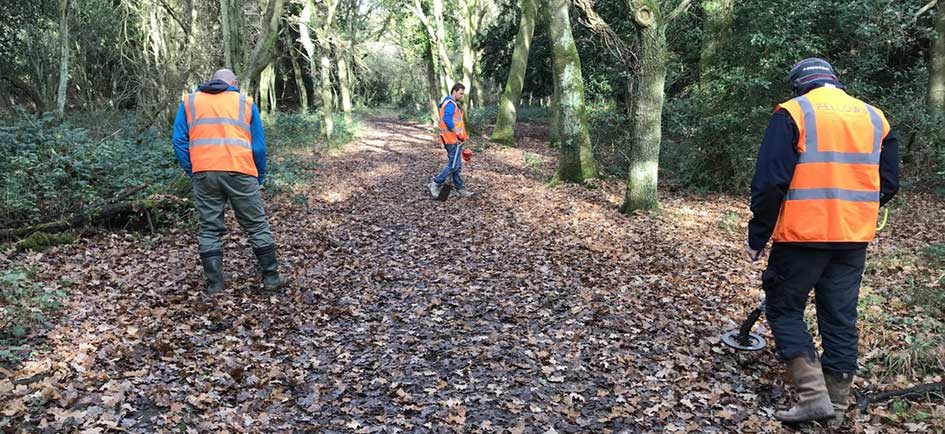 Provision of UXO Survey Report at Kingley Vale Nature Reserve
Kingley Vale has a history of military use dating back to the 1800's when it was first used as a self-contained training area and rifle range. During World War II, troops were located here as part of the Home Guard Auxiliary Units defence of the Sussex coast and the South Downs and the area was used for training for the Allied Invasion force prior to the D-Day landings.
Fellows were contracted by Natural England, Department for Environment, Food and Rural Affairs (DEFRA) to search and clear historic ordnance from the nature reserve.
Solution
Over a five week period a three-man team, led by an experienced ex-military Bomb Disposal Engineer, conducted a non-intrusive visual and electro-magnetic UXO survey with subsequent target investigation at the accessible areas of the Kingley Vale site. The survey was conducted to determine the presence of buried or hidden anomalies that could be UXO and which may compromise public safety.
The Fellows survey team conducted the survey visually and with hand-held UXO locators to locate anomalies that could be UXO to a maximum survey depth of approximately 0.3m The surveys highlighted many high metallic readings and visual sightings which were temporarily marked for later pinpointing and/or investigation by the UXO Supervisor when applicable. Hand-held GPS was used to record the positions of such items and they were downloaded and plotted onto the survey overlay.
Outcome
Numerous anomalies with UXO like characteristics were detected and pre-planned intrusive investigations were conducted on all targets matching the criteria of potential UXO. Throughout the reserve there was a considerable amount of viable UXO and UXO related scrap identified. This included 10 three-inch mortar bombs, 44 two-inch mortar bombs and 285kg of UXO related scrap which correlates with the wartime use of the nature reserve.
Follow-on actions were completed as below:
For anomalies deemed benign, the survey continued with no further action.
For anomalies recognised by the Supervisor as UXO but safe to move, the team moved the item to a pre-designated safe and secure area to stockpile in order to conduct further disposal action. Fellows were able to remove these items from site and then disposed of them in a safe location thereby saving the project time and money.
For anomalies recognised by the supervisor as UXO but not safe to move, the team notified the Police who, in turn, requested Military Bomb Disposal assistance. The Fellows survey team then continued to ensure the public were at a safe distance from the item until Police were on site to manage the incident.
As a result of Fellows' survey and clearance of the area it is now much safer for the general public to enjoy this area of outstanding natural beauty without encountering hazardous remnants of war.