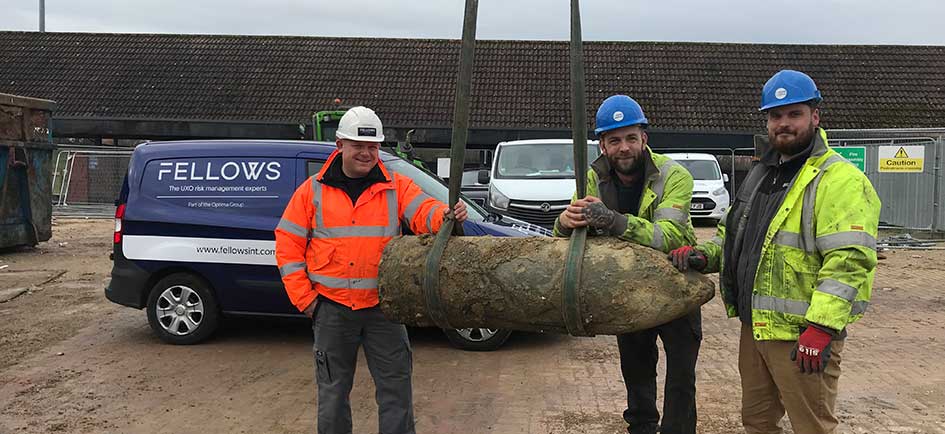 Provision of urgent UXO investigation at West Sussex Leisure Centre development
On Monday 21 January, Fellows received a phone call reporting that an item of possible UXO had been unearthed while undertaking demolition works on a site at Broadbridge Heath in West Sussex where a new leisure centre was being constructed.
Initial identification was carried out via a digital image. with the result that the item was identified as an unexploded bomb (UXB). Site personnel were advised to leave the item in situ until a positive identification and subsequent risk had been assessed by a qualified Explosive Ordnance Disposal (EOD) Engineer.
Solution
Fellows Operations Manager and EOD Engineer, Jason Webb responded as part of a pre-arranged on-call agreement with Fellows and was quickly mobilised to visit the site and investigate the item.
After a detailed examination Jason was able to identify the find as a 15-inch projectile, most likely a Howitzer shell. Further research has confirmed this identification. This type of munition was used during the First World War with a 15-inch breech loading Howitzer. It is understood that only 12 examples were manufactured. The Royal Marine Artillery operated these howitzers along with the Royal Garrison Artillery (RGA). The history of 178 Siege Battery RGA records the use of these howitzers at Wancourt in France in October 1917 – 'During the day the firing of the 15-inch howitzer, No 10 R.M.A., was watched with interest, as it was possible to follow with the eye for a great distance the flight of the 1,400 Ib projectile'.
The example discovered at Broadbridge Heath, was found to be inert and empty and could be confirmed as being Free from Explosive (FFE). It is believed that the projectile was probably used for bomb disposal training. Subsequently, it was removed from the site by Fellows and donated to a local museum.
Outcome
Swift action by the site staff in calling Fellows as a competent UXO contractor meant that the item could be quickly identified as safe and free from explosives thereby avoiding costly and lengthy site evacuation and not delay the development works.
The client are now fully appraised of the correct actions to take and the right way of mitigating UXO risk at this busy development project.