Ground Investigation Support at Dudden Hill Lane – Central London
A contactor was carrying out intrusive ground investigation works on a site in Central London. Fellows were commissioned to carry out a preliminary desktop study to identify the likelihood of discovering unexploded ordnance during the proposed works. When an increased risk was identified during the desktop study, Fellows provided a UXO engineer to attend the site and locate, using electromagnetic means, any unexploded ordnance that could pose a risk to intrusive engineering ground investigation works.
Solution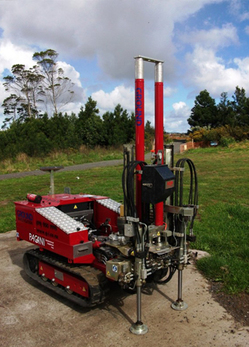 Fellows completed a high-level desk top study which confirmed that the site was located in an area of London that had experienced a high bombing density during WW2. The study revealed that a number of bomb strikes were recorded in the vicinity of the site and that an unexploded bomb had been discovered on a site just 2km away earlier in the year. Therefore the risk assessment concluded that there was an increased chance of finding UXO on the site, in particular, WW2 German air dropped munitions.
The preliminary risk assessment recommended that an intrusive survey should be carried out. A Fellows UXO Engineer attended the site and utilised an Ebinger Magnex 120LW Magnetometer to identify possible UXBs in the vicinity of the ground investigation positions. At each location, the magnetometer was used to clear the ground prior to drilling. After a few meters, the drill was withdrawn and the magnetometer lowered down the hole to clear the next few meters. This was then repeated to the required depth. A fast, efficient and cost-effective process to ensure the safe and timely removal of the UXO risk.
Outcome
Despite the increased risk of uncovering an unexploded bomb on the site in London, the contractor was able to reduce the risk to As Low As Reasonably Practicable by carrying out a simple cost effective survey alongside ground investigation works.
This project is typical of the work carried out by Fellows all over the UK. If you have a similar project, or would simply like to find out more about the process adopted by Fellows, please don't hesitate to get in touch.